GRANT BURNYEAT STUDENT SERIES
The Grant Burnyeat Student Series is a new initiative developed by the Arts Club's Education Department in collaboration with long-time theatre supporter, former Arts Club board member, and Supreme Court Justice—Grant Burnyeat. The intention of this program is twofold: to provide meaningful opportunities for youth to participate in the arts on a more frequent basis and to strengthen relationships between the Arts Club and local Vancouver secondary schools and youth organizations.
The Grant Burnyeat Student Series will offer 30 free tickets annually to all 18 Vancouver public high schools, affording students the opportunity to attend Arts Club performances free of charge. We can also provide a complimentary workshop that will explore the themes, style, and/or content of the show that students will be attending, enhancing their overall experience and understanding of the production.
In addition to providing secondary school groups with a complimentary theatre experience, students who attend Arts Club productions through this program are also invited to participate in the Grant Burnyeat Annual Writing Competition.
To book your group of 30, please contact Kerri Lee, Education and Outreach Associate, at klee@artsclub.com or 604.687.5315, ext. 250, and indicate your first and second choice of shows. You will then be contacted with potential performance dates.
2017/18 Season Shows
April 5 – May 5, 2018
Misery
April 12 – May 6, 2018
Me and You
June 14 – July 19, 2018
Once
Mamma Mia! is no longer available as part of the Grant Burnyeat Student Series
Grant Burnyeat Annual Writing Competition
The application period for the 2018 Grant Burnyeat Writing Competition is now open! Essays can be emailed to kellis@artsclub.com.
This writing competition asks students to consider the following questions:
Why is it important that students have access to live theatre?
What contribution does live theatre make to our society?
What was it about the production that you saw that meant the most to you?
All essays submitted will go through an adjudication process. The two essays that best demonstrate considerable thought and insight regarding the impact of live theatre on youth today will be selected to receive cash prizes. The first place essay writer will be awarded $750 and second place writer will receive $250.
Grant Burnyeat Annual Writing Competition: 2018 Finalist Essays
Congratulations to all of the students who submitted their essays in the Grant Burnyeat Annual Writing Competition. The essays that were submitted were well thought out and touched upon the importance of students having access to live theatre, the contribution that live theatre makes to our society, and meaningful aspects of the productions that they saw.
The awards ceremony was held in August 2018. Congratulations to our winners!
First place winner, Nova Grant for her essay "On the Importance of Live Theatre"
Second place winner, Sabinah Onayemi for her essay "It's More than Live Theatre"
We look forward to reading the essay submissions for the 2018/19 season!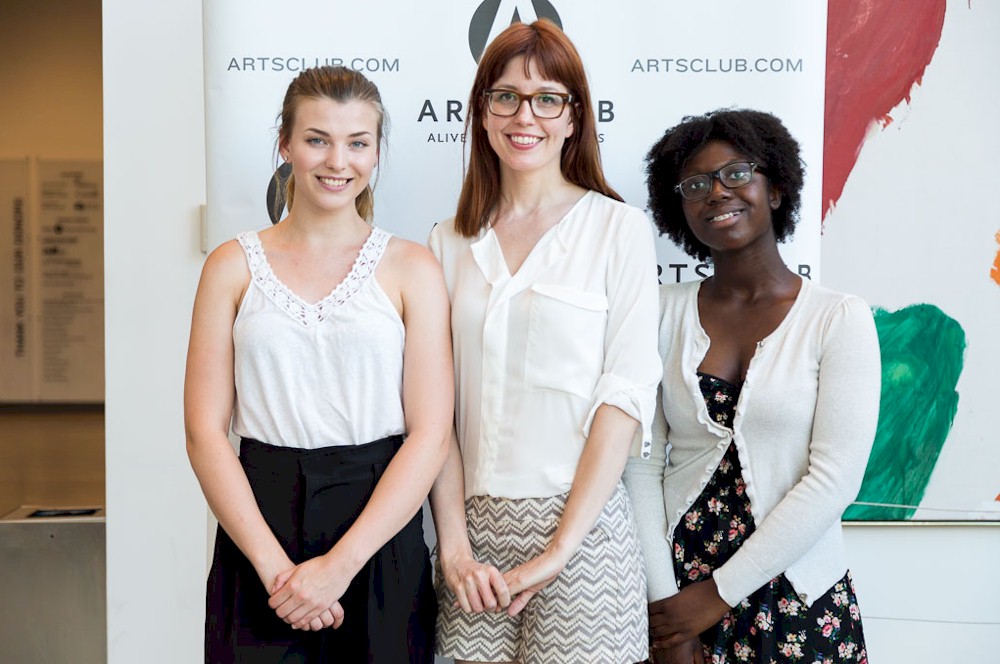 "I wanted to offer a heartfelt thank you, on behalf of myself and our students, for organizing an amazing day. The tour and workshops were informative and inspiring and they really gave the students an insight into all of the hard work that goes into creating theatre. Please extend a thank you to the Hon. Grant Burnyeat. It truly was an a generous gift and we sincerely thank him for facilitating a love a theatre in future generations."
—Maria Dimas, Winston Churchill Secondary
"Thank you SO MUCH for the tickets. I was so proud of my students yesterday. They were in awe of the sets and staging, they were on the edge of their seats during the whole show, and a couple of times they gasped and yelled at what was happening. During the intermission they were a buzz talking about every detail. Thank you, thank you, thank you."
—Brendan Sangster, Brittania Secondary
"In name of the Gladstone students and myself I wanted to thank Arts Club Theatre Company for providing us with a wonderful day! The pick-up by bus, the tour, the workshop, and the performance were great! I sincerely hope we can do this again."
—Ineke Lievens, Gladstone Secondary