Musical Theatre Intensive
Aimed at young artists (ages 12–19) with a passion for singing, dancing, and acting, the Arts Club's Musical Theatre Intensive (MTI) exposes students to the kind of rigorous training typically found only at the post-secondary level and begins their journey toward becoming a true "triple threat" (actor/singer/dancer).
Now entering its 20th year, the MTI continues its history of emphasizing process over product, guiding our students through voice, dance, and acting techniques that can consistently be applied outside of our program as well. We don't simply teach music and dance steps; we give our students the skills to be authentic and expressive on any stage they play.
Beyond this practical application in the theatre, students finish our program having discovered more self-confidence, more respect for the talents and opinions of their peers, and greater engagement with the world around them. Our aim is to move beyond teaching kids how to sing and dance as we ask them to put aside their fears, believe in themselves, and act (on and off the stage) with passion and integrity.
We don't want to simply train actors—we want to nurture artists.
THIS PROGRAM IS GENEROUSLY SUPPORTED BY
Charles and Eve Chang Foundation
Kate Dahlstrom
Jean Hurst
John C. Kerr Family Foundation
Irma & Marvin Lamoureux
Lohn Foundation
SENIOR PROGRAM
This program is aimed at young artists (ages 15–19) who are seriously considering post-secondary training in the performing arts. The program provides an experience similar to a full-time conservatory training program. Aside from attending classes for 7hrs/day 5 days/week, participants can expect to complete a great deal of prep work at home throughout the program.
Ages: 15–19
Dates: July 24–August 11, 2023
Times: Mon–Fri, 10 AM–5 PM
Tuition: $995 (plus GST)
Location: BMO Theatre Centre
Entrance into the senior program is by audition only.
Auditions: Sat, May 6, 2023
To be considered for an audition, please submit a photo and résumé to intensive@artsclub.comintensive@artsclub.com
JUNIOR PROGRAM
This program is aimed at young artists (ages 12–17) who feel they are ready to move beyond beginner level classes in musical theatre performance. While our instructors are happy to work with students who have limited experience/training, please note that this is not an "intro" level program. Though a little less intense than our Senior Program, participants are expected to put extra time into their work at home each night.
Ages: 12–16
Dates: July 10–21, 2023
Times: Mon–Fri, 10 AM–4 PM
Tuition: $625 (plus GST)
Location: BMO Theatre Centre
To apply for the Junior Program, complete and submit the application. No audition is necessary, but we do ask that students meet at least two of five prerequisites for the course.
Applicants must have any TWO of the following:
dance training (2 years or more)
private voice training (1 year or more)
singing with a school or community choir (1 year or more)
acting/drama classes (1 year or more)
experience performing in a school or community musical
HIGHLIGHTS
instruction from industry professionals
intimate class size ensures lots of one-on-one attention
private vocal coaching
dance classes
acting classes
musical theatre performance classes
tickets to live performances
meet other young people with similar aspirations and interests
Q&A sessions with guest speakers from the professional theatre world
final showcase to share your new skills with family and friends
final reception for students, instructors, and guests
To learn more about the programs, contact intensive@artsclub.com.
If tuition is an obstacle for you, the MTI has a limited number of subsidy spots available on a case-by-case basis. Please contact Kevan Ellis, Director of Education, at kellis@artsclub.com if you would like to apply for a tuition subsidy.
PROGRAM DIRECTOR
Anna Kuman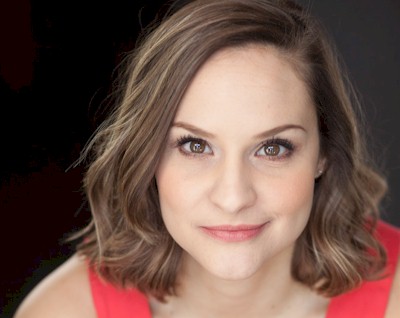 Anna is a theatre practitioner and educator specializing in movement, choreography, and Intimacy direction. She has worked for regional theatres across Canada, including on over 15 productions with the Arts Club. Some highlights include touring BC with Red Rock Diner, and serving as Assistant Director/Assistant Choreographer for the regional Canadian tour of Matilda the Musical. In 2014, Anna co-created and co-directed Circle Game: Reimagining the Music of Joni Mitchell, which toured to 13 cities in western Canada from 2017 to 2019.
Internationally, Anna has worked on the Mass Movement Team of mega-events including the Rio 2016 Paralympic Opening Ceremony. She recently spent two years living and working in Dubai, UAE, as a choreographer, movement director, and dance captain for Expo 2020.
In addition to her work in live theatre and events, Anna is a recurring guest faculty member at post- secondary professional training programs. She is a graduate of the Capilano University Musical Theatre Program and holds an MFA in Movement Direction and Teaching from the Royal Central School of Speech and Drama in London.
Classes via Zoom:
Tuesday, July 13, 1:30–3:00 PM
Tuesday, July 20, 1:30–3:00 PM
Tuesday, July 27, 1:30–3:00 PM
Classes in-person at the Stanley Industrial Alliance Stage*:
Thursday, August 5, 10 AM–1 PM
Friday, August 6, 10 AM–1 PM
Saturday, August 7, 10 AM–1 PM
Final performances at the Stanley Industrial Alliance Stage*:
Each student will receive a total of 3.5 hours of private coaching with Program Director Peter Jorgensen and Musical Director Sean Bayntun. These sessions will be scheduled in advance in consultation with each participant, and can be online or in-person.*
*Public health orders permitting
Applications for the 2021 MTI program are now closed. To be added to the mailing list, contact Hila Graf, Education & Community Engagement Manager, at hgraf@artsclub.com.
When young people take part in the Arts Club's Musical Theatre Intensive, they become part of our community and, whenever possible, we offer alumni opportunities to perform at special events and workshops.
The greatest thrill, however, is seeing our students move on to greater and greater success throughout the industry. Alumni of our program study at top theatre schools around the world, including Sheridan University, the National Theatre School, NYU Tisch, Studio 58, Grant MacEwan University, UBC, The Randolph Academy, AMDA, and LAMDA, among others.
We are also seeing more of our alumni working with professional companies around the world, including, of course, the Arts Club:
Stuart Barclay—Enjolras in Les Misérables and Sky in Mamma Mia!
Sierra Brewerton—Gypsy, Mary Poppins, Disney's Beauty and the Beast, and Mamma Mia!
Darren Burkett—ensembles of Mary Poppins, Hairspray, White Christmas, Disney's Beauty and the Beast, The Producers, and Gypsy
Andrew Cohen—Judas in Godspell; Circle Game (a Joni Mitchell revue he created with Anna Kuman)
Kayla Dunbar—Kate Monster/Lucy in Avenue Q; ensembles of Hairspray and Gypsy; movement director for The Curious Incident of the Dog in the Night-Time
Cameron Dunster—ensemble of Spamalot
Allison Fligg—ensembles of White Christmas and Hairspray
Joel Grinke—projection/video design for Disney's Beauty and the Beast and The Day Before Christmas
Shannon Hanbury—Mamma Mia!; Babette in Disney's Beauty and the Beast
Kaylee Harwood—Cosette in Les Misérables
Ellzabeth Irving—Mary Poppins and A Christmas Story: The Musical
Daniel Pitout—White Christmas and The Producers
Christine Quintana—Saint Joan and She Stoops to Conquer
Brian Ribback—Billy Elliot
Courtney Shields—assistant director on Rock of Ages
Amanda Testini—assistant choreographer on Onegin
Graham Verchere—Mary Poppins and A Christmas Story: The Musical
VISIT US ON FACEBOOK