LEAP Playwriting Intensive
Applications for the 2020–2021 cohort of LEAP are now closed. Stay tuned for information about the LEAP Festival, happening in May 2021!
---
LEAP (Learning Early About Playwriting) is a free and interactive online program for young people, ages 16–25, in the BC Lower Mainland who are interested in playwriting. Over 180 students have been mentored through the creation of original dramatic works since the program's inception in 2006. Participants learn the basic principles of playwriting, share their work with classmates, and provide feedback for one another in a safe and supportive environment. Students also receive feedback from theatre professionals and have their plays workshopped and presented to the public in staged readings.
LEAP is a full-scholarship program, and is 100% funded by donors and sponsors. There is no cost to students.
Instruction is offered at three levels: Level 1 students are mentored through the creation of a short-form play (10 minutes); Level 2 students write one-act plays; and one Level 3 student is supported through the creation of a full-length play.
Watch this short video documenting the journey from classroom to workshop to reading, and hear testimonials from former students.
THIS PROGRAM IS GENEROUSLY SUPPORTED BY

Bonnie Mah
Art Vertlieb & Bev Briscoe
Irma & Marvin Lamoureux
Lee Grills
Rix Family Foundation
The LEAP program seeks young people interested in creative writing for the theatre who are passionate, engaged, and inquisitive storytellers. We're looking for young artists with distinct voices who are looking to develop the skills that will allow them to explore new stories from unique perspectives, whether they be based on personal experience or created narratives borne out of curiosity and imagination. We are excited by the possibility of helping young playwrights create the play that only they can write.
We are committed to creating a safe, supportive, and inclusive environment that supports young writers from all backgrounds. We encourage applications from equity-seeking writers, including (but not limited to) those who identify as Indigenous, Black, Person of Colour, Trans, Non-binary, Intersex, Queer, Disabled, Neurodivergent, and people who have received mental health labels or diagnoses.
The facilitation at LEAP draws from a script-based theatre creation model with the individual playwright at its centre. At the same time, we encourage applicants who take a range of approaches to process, form, and structure.
LEVEL 1
This level is geared toward writers with very little or no experience in playwriting and the course provides an introduction to some of the basic principles of playwriting. Absolutely no previous playwriting experience is required—just a passion for writing and a curiosity about the possibilities of writing for the theatre. Level 1 students will be mentored through the creation of a short-form play about 10 minutes in length. There are 10 spots available for this level.
LEVEL 2
This level is for students with some playwriting experience who want to deepen their process and practice with a small cohort of playwrights. (Applicants do not need to have completed Level 1 in order to qualify for Level 2.) The writing schedule is more intense for this level and students are expected to continue to generate material for their play throughout the program's duration. Level 2 students each write one-act plays, which are usually between 20 and 40 minutes in length. There are 4 spots available for this level.
LEVEL 3
This level is for a single student with a considerable amount of experience as a playwright. This experience can take many forms, including being self-taught, receiving mentorship from other artists/cultural practitioners, and/or receiving formal education. This placement is ideal for a young passionate playwright who is committed to theatre creation and who is poised to emerge onto the professional stage. The successful Level 3 candidate is mentored through the creation of a full-length play.
TECHNICAL REQUIREMENTS
Because of our ongoing safety protocols due to COVID-19, all classes and meetings with take place via Zoom.
As a result, it is important that students have access to a device (such as a smartphone, tablet, or laptop) with a reliable internet connection. We also recommend the use of a headset with a built-in mic, and that students do their best to join classes and sessions from a private environment with no background noise. (If these technical requirements pose a challenge to you, please reach out to us by email at leap@artsclub.com.)
INSTRUCTOR/PROGRAM LEADER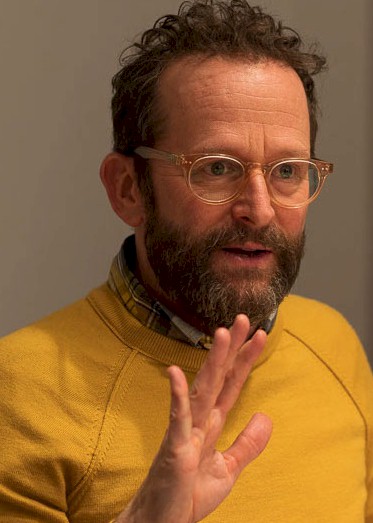 Shawn Macdonald (he/him) has been the Program Leader for LEAP since 2007. He is a theatre artist with over 30 years of professional experience. Shawn is an award-winning actor and playwright who is passionate about theatre creation in its many forms. In addition to his work with LEAP, Shawn was also the Artistic Associate at Green Thumb Theatre for seven years, where he facilitated large-scale devised theatre creations with youth. As an actor, playwright, or director, he has worked with most of Vancouver's professional companies including the Vancouver Playhouse, the Arts Club, Touchstone, Gateway Theatre, Rumble Theatre, Ruby Slippers, Pacific Theatre, Theatre Replacement, ZeeZee Theatre, PTC, Realwheels, Boca del Lupo, among others. He is the recipient of five Jessie Awards. Born in Quebec City to Irish/Scottish/Acadian parents, Shawn is a settler who has been living on beautiful unceded Coast Salish Territory (Musqueam/Squamish/Tsleil-Waututh) since 1988.
INSTRUCTOR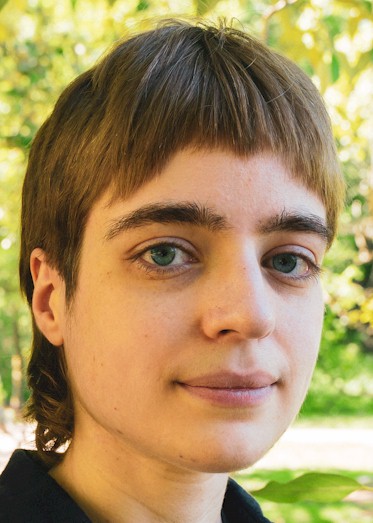 Veronique West (she/they; her/them) is a settler of Polish descent, living on the unceded, occupied, and ancestral territories of the Musqueam, Squamish, and Tsleil-Waututh Nations. Their practice spans performance creation, dramaturgy, and education, as well as mental health peer support and advocacy. They have worked with Rumble Theatre, the Queer Arts Festival, Playwrights Theatre Centre, Rice & Beans Theatre, Boca del Lupo, Gallery Gachet, The Cultch, the Downtown Eastside Neighbourhood House, Theatre Conspiracy, Neworld Theatre, the Magnetic North Festival, and the South Asian Arts Society, among others. Veronique is the recipient of a Playwrights Theatre Centre Associates residency and a National Theatre School Art Apart award, as well as a winner of Tarragon Theatre's 20/20 Playwriting Competition. They are part of NeuroTales: A Neurodivergent and Mad Writer's Group and Subjects of History Collective (with Laura June Albert, mia susan amir, and Alexa Mardon). They hold a BFA in Creative Writing from UBC.
2020–2021 LEAP PROGRAM SCHEDULE
Application deadline: Oct 26, 2020
LEAP 2020–2021 Cohort Announcement: Nov 2, 2020
LEAP Launch and Orientation: Nov 9, 2020
Information regarding our workshops with professional actors and our LEAP Festival of readings will be released at a later date.
LEVEL 1
Classes take place Mon, 7–9 PM
Nov 16, 23, 30
Dec 7, 14
holiday break
Jan 18, 25
Feb 1, 8
writing break
Mar 1, 8, 15

LEVEL 2
Classes take place Tue, 7–9 PM
Nov 15 (Sunday), 24
Dec 1, 8, 15
holiday break
Jan 19, 26
Feb 2, 9
writing break
Mar 2, 9, 16

LEVEL 3
The Level 3 student will meet monthly with the LEAP leaders beginning in November. Additional meetings by Zoom will be added based on the expressed needs of the student. The Level 3 student will also be offered a workshop of their first draft with professional actors in January 2021.
WRITING LABS
These are devoted rewriting sessions in a quiet environment with the focussed energy of your cohort. The LEAP leaders are available for feedback on new material and coaching if required.
Sat, Mar 27, 12–4 PM
Sat, May 8, 12–4 PM
WORKSHOPS
Professional actors are at your disposal to read your play and provide feedback using the model that has been developed as part of the program.
Level 1: Sat, Apr 10 & Sun, Apr 11, 10 AM–6 PM
Level 2: Sat, Apr 17, 10 AM–6 PM
Level 3: Sat, Apr 24, 10 AM–2 PM