LEAP Playwriting Intensive
Applications for the 2022–2023 LEAP cohort are now closed.
LEAP—Learning Early About Playwriting—is a free and interactive program for young people (ages 16–25) in the B.C. Lower Mainland who are interested in playwriting. Over 180 students have been mentored through the creation of original dramatic works since the program's inception in 2006. Participants learn the basic principles of playwriting, share their work with classmates, and provide feedback for one another in a safe and supportive environment. Students also receive feedback from theatre professionals and have their plays workshopped and presented to the public in staged readings.
LEAP is a full-scholarship program, and it is 100% funded by donors and sponsors. There is no cost to students.
Instruction is offered at three levels: Level 1 students are mentored through the creation of a short-form play (10 minutes); Level 2 students write one-act plays; and one Level 3 student is supported through the creation of a full-length play.
For more information, contact Hila Graf, Education & Community Engagement Manager, at hgraf@artsclub.com.
Watch this short video that documents the journey from classroom to workshop to reading.
THIS PROGRAM IS GENEROUSLY SUPPORTED BY





Kate Dahlstrom
Eternal Theatre Collective
The Hamber Foundation
Irma & Marvin Lamoureux
Alan & Gwendoline Pyatt Foundation
River Foundation
Rix Family Foundation
The LEAP program seeks young people interested in creative writing for the theatre who are passionate, engaged, and inquisitive storytellers. We're looking for young artists with distinct voices who are looking to develop the skills that will allow them to explore new stories from unique perspectives, whether they be based on personal experience or created narratives borne out of curiosity and imagination. We are excited by the possibility of helping young playwrights create and develop their unique stories.
The facilitation at LEAP draws from a script-based theatre creation model with the individual playwright at its centre. At the same time, we encourage applicants who take a range of approaches to process, form, and structure.
LEVEL 1
This level is geared toward writers with very little or no experience and the course provides an introduction to some of the basic principles of playwriting. Absolutely no previous playwriting experience is required—just a passion for writing and a curiosity about the possibilities of writing for the theatre. Level 1 students will be mentored through the creation of a short-form play about 10 minutes in length. There are 10 spots available for this level.
LEVEL 2
This level is for students with some playwriting experience who want to deepen their process and practice with a small cohort of playwrights. (Applicants do not need to have completed Level 1 in order to qualify for Level 2.) The writing schedule is more intense for this level and students are expected to continue to generate material for their play throughout the program's duration. Level 2 students each write one-act plays, which are usually between 20 and 40 minutes in length. There are 4 spots available for this level.
LEVEL 3
This level is for a single student with a considerable amount of experience as a playwright. This experience can take many forms, including being self-taught, receiving mentorship from other artists/cultural practitioners, and/or receiving formal education. This placement is ideal for a young passionate playwright who is committed to theatre creation and who is poised to emerge onto the professional stage. The successful Level 3 candidate is mentored through the creation of a full-length play.
EQUITY, DIVERSITY, INCLUSION & ACCESSIBILITY
We encourage applications from equity-deserving writers, including but not limited to those who are Indigenous, Black, People of Colour, Trans, gender diverse, Intersex, Queer, Neurodivergent, D/deaf, and Disabled/have lived experience of disability (including mental health disability).
We use a non-prescriptive feedback model, which respects each writer's self-determination. Since our meetings will bring together people with different relationships to privilege and oppression, we will collaboratively create community care and accountability guidelines. The facilitators will consult participants about their access needs and strive to adapt the program accordingly. Our access practices will include:
Regular check-ins for access needs
COVID-19 safety procedures (everyone will physically distance and wear masks, unless they can't because of an access need)
Physically accessible and gender-neutral washrooms
Sighted-guide assistance
Personal Support Workers are welcome in the space; advance notice is requested so we can adjust numbers based on safety procedures
Wheelchair user friendly space
Program materials provided in accessible formats
Automatic captions through participants' personal devices
Relaxed environment in class and chill-out zones in the building
Fragrance-free space (everyone will be encouraged to use fragrance-free products; if this is a barrier for you, we will collaborate on finding a way to meet everyone's needs)
We currently cannot offer ASL services during classes
LEAP meetings will take place in person; however, if in-person attendance is inaccessible for you, please reach out to us to discuss the possibility of remote participation.
Contact us at leap@artsclub.com or 604.687.5315, ext. 244, with any questions or access requests. Video calls can be arranged.
INSTRUCTORS
Shawn Macdonald/Instructor and Program Leader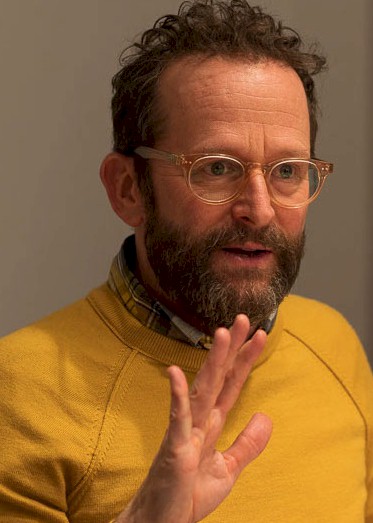 Shawn (he/him) has been the Program Leader for LEAP since 2007. He is a theatre artist with over 30 years of professional experience. Shawn is an award-winning actor and playwright who is passionate about theatre creation in its many forms. In addition to his work with LEAP, Shawn was also the Artistic Associate at Green Thumb Theatre for seven years, where he facilitated large-scale devised theatre creations with youth. As an actor, playwright, or director, he has worked with most of Vancouver's professional companies including the Vancouver Playhouse, the Arts Club, Touchstone, Gateway Theatre, Rumble Theatre, Ruby Slippers, Pacific Theatre, Theatre Replacement, ZeeZee Theatre, PTC, Realwheels, Boca del Lupo, among others. He is the recipient of five Jessie Awards. Born in Quebec City to Irish/Scottish/Acadian parents, Shawn is a settler who has been living on beautiful unceded Coast Salish Territory (Musqueam/Squamish/Tsleil-Waututh) since 1988.
Veronique West/Instructor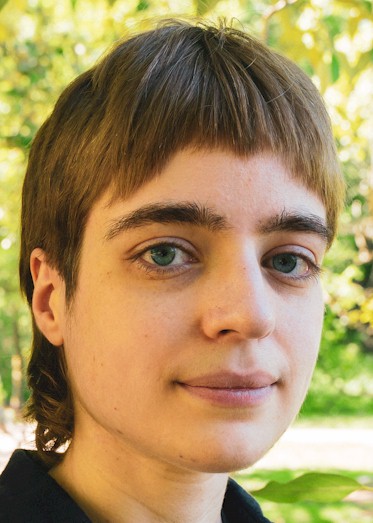 Veronique West (she/they) is a non-binary artist, arts worker, and disability advocate of Polish descent, based on stolen Musqueam, Squamish, and Tsleil-Waututh territories. Their practice draws from their lived experience of neurodivergence, madness, and chronic physical illness. As an artist, they have collaborated across various mediums, including performance, sound art, web-based art, and virtual reality. They have worked as a mentor and facilitator with the Arts Club, Gateway Theatre, the Cultch, Playwrights Theatre Centre, and Workman Arts, among others. As an advocate, Veronique contributes to disability-led consultation, education, community organizing, and peer support initiatives.
www.veroniquewest.com
2022–2023
The program will take place in person at the BMO Theatre Centre.
Launch & Orientation: Sat, Nov 5, 12–4 PM
To view the full schedule for each level, download the attached documents
LEVEL 1 SCHEDULE, LEVEL 2 SCHEDULE, LEVEL 3 SCHEDULE
CLASSES
Level 1 (7–9 PM)
Nov 7, 14, 21 (one-week break)
Dec 5, 12
holiday break
Jan 16, 23, 30
Feb 6, 13, (one week break), 27
Mar 6
Level 2 (7–9 PM)
Nov 8, 15, 22 (one-week break)
Dec 6, 13
holiday break
Jan 17, 24, 31
Feb 7, 14, (one week break), 28
Mar 7
Level 3
The Level 3 student will meet monthly with the LEAP leaders beginning in November. Additional meetings will be added based on the expressed needs of the student. The Level 3 student will also be offered a workshop of their first draft with professional actors in January 2023.
WRITING LABS
These are two devoted rewriting sessions in a quiet environment with the focused energy of your cohort. The LEAP leaders are available for feedback on new material and coaching if required.
Mar 25, 12–4 PM
Apr 29, 10 AM–2 PM
WORKSHOPS
Professional actors are at your disposal to read your play for you and to provide feedback using the model that has been developed as part of the program.
Level 1: Apr 8 & 9, 10 AM–6 PM
Level 2: Apr 15, 10 AM–6 PM
Level 3: Apr 22, 2–6 PM
REHEARSALS
Level 1: May 6 & 7, 10 AM–5 PM
Level 2: May 8, 10 AM–6 PM
Level 3: May 10, 6–10 PM
FESTIVAL
Three nights of staged readings of the LEAP cohort plays!
Level 1: May 12, 6–10 PM
Level 2: May 13, 6–10 PM
Level 3: May 14, 6–10 PM
Fill out an application form. You can use the online application form, or fill out this Word version and email it to leap@artsclub.com
Submit a writing sample. You can do this through the online application form or email your writing sample to leap@artsclub.com. The writing sample requirements are as follows:
For Level 1: Up to two pages of writing in any style. It could be a monologue, a poem, a rant, an essay—any writing that you feel represents you and that you feel good about.
For Level 2: Up to 5 pages of writing that is an excerpt from a play that you have written.
For Level 3*: Up to 10 pages of writing that is an excerpt of a play that you have written.
*Given the expected time commitment for LEAP, Level 3 applicants should not be attending school full-time. You may be invited to attend an interview, send us references, and send us a full draft of the play you excerpted for your writing sample.
We encourage written applications because LEAP is a writing-based program. However, if this format is inaccessible for you, you can use another format (such as an audio or video application). Contact us at leap@artsclub.com or 604.687.5315, ext. 244, with any questions or access requests. Video calls can be arranged.