Miriam Bennett Artist-in-Residence
The Miriam Bennett Artist-in-Residence program is a new initiative that provides mentorship, office space, and financial support to a single artist for a year. Its aim is to help an artist develop their practice and deepen their relationship with the community. The artist is free to pursue their craft in whatever way they intend without the burden of delivering a product. Our goal is to help clear their path a little.
Miriam Bennett was a champion for the arts around the world. Her advocacy during the early days of the Arts Club is still ingrained in the company over 50 years later. A friend to all and a dedicated lover of arts and culture, this program is named to honour her spirit of encouraging the development of unique local talent.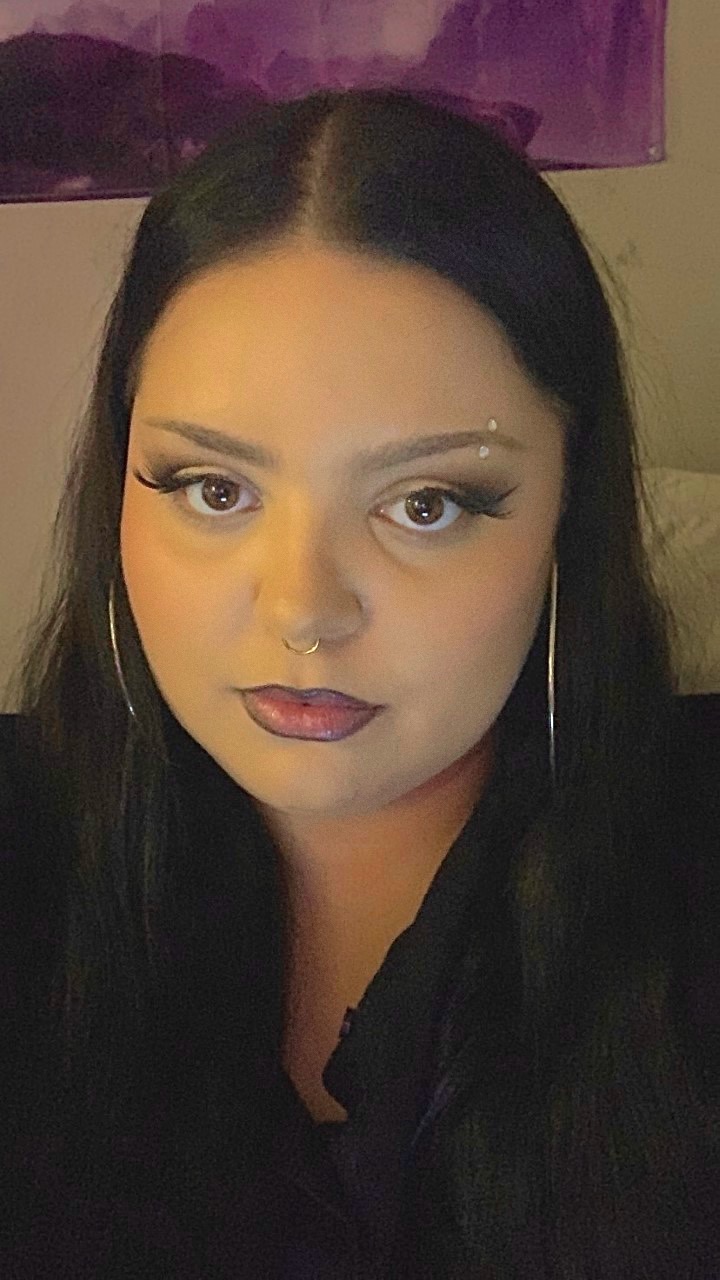 Our inaugural Artist-in-Residence for the 2022–2023 season is Ashleigh Giffen.
Ashleigh Giffen is a 24-year-old Oji-Cree artist. She is a multi-disciplinary artist exploring dream state, realm travel, and fragmented histories through lenses of critical Indigeneity and discouraging genre. Her first play, Kamwatan Nipe (Quiet Water), held its first reading at the Arts Club, and she is currently in the process writing its duo project. She was the 2nd-place winner of the 2019 Canadian Arts and Stories writing contest, as well as the 2019 Writing in the Margins poetry winner in Briarpatch magazine. She also is the 2nd-place winner in the 2020 Room magazine poetry contest. Her stop-motion film, Pesowan, created in collaboration with Maura Tamez, was featured in the Lake Country Art Gallery for two exhibits last summer and at the Kelowna Art Gallery, along with her multimedia collage work. She currently lives in Vancouver with her two cats.
The Legacy of Miriam Bennett
In 2022, the Arts Club launched the Miriam Bennett Artist-in-Residence program to provide mentorship, office space, and financial support to a single artist for a year. Its aim is to help an artist develop their practice and deepen their relationship with the community. The artist is free to pursue their craft in whichever capacity without the burden of delivering a product. Our goal with this program is to help clear their path to allow their art to flourish.
This program was named by longtime donor and subscriber Robert Bennett in memory of his late wife, Miriam Bennett. She was a champion of the arts. Her advocacy during the early days of the Arts Club is still ingrained in the company over 50 years later.
We recently sat down with Robert to talk about Miriam and how the program honours her spirit.
Arts Club: How did you and Miriam meet?
Robert Bennett: Well at the time, she was studying International Law in Mexico City, and she went down to Acapulco—she knew people who were at conferences there. I was with a couple guys who were at the conference, and they'd met her before at one of the conferences she'd been at. They saw this woman coming down the street, and they were all talking French, and they said, "That's Miriam from Brussels." Lo and behold, they all started yucking it up, and I met her. But my French was so bad she knew immediately, and that was very kind of her—she switched to English to include me in the conversation.
Then, maybe three weeks later, I was flying from Mexico City to Montreal, and the plane went on to Brussels. It was Air Sabena, the national airline of Belgium of that period. During the flight it lost a propeller! This is about 1965, somewhere around the mid-sixties. Miriam was also there, so we sat in the airport and talked to each other. She said she was coming to Montreal later to see Expo '67, so she said, "Give me your telephone number, I'll look you up when I get back to Montreal." Sure enough, she showed up. Then I ended up going to Brussels, and we eventually were married there, and then we came to Vancouver around 1970. I grew up in Quebec, but as an English speaker, I knew it wouldn't make sense to move back, and so I got a job in Vancouver, and we moved.
AC: How did Miriam get involved in theatre?
RB: Miriam spoke five different languages fluently. We were living in Brussels around 1965, where she was working for AT&T as a language specialist helping them whenever issues arose that required her strong language skills. During this time, NATO was stationed in Brussels, so there were lots of people from around the world speaking many languages who lived there, as well as lots of big corporations. In order to promote English, the British Council took a successful play by the British Little Theatre that was on the London stage and sent it to Brussels for 3 to 4 weeks. It was so popular it sold out. Miriam was at one of the events around the play, and it was a mistake that she ended up there. She discovered that the people moving the scenes around on the stage spoke French, and the other people working in the theatre spoke Flemish—so they weren't talking to each other. Miriam realized this and ended up playing traffic control, communicating between both groups. The British Council heard her switching languages and said, "We need someone like that to help out." And, lo and behold, they decided Miriam had the "zing" that they wanted. So, they created a job and gave her a title: "Stage Manager." She didn't really know what it was about…I laughed myself silly over that.
The British, when you have a run in the West End of London—they did everything for you, you didn't have to do anything. So, Miriam was eventually in charge of organizing the cocktail parties, and she was very good at it. She talked to everybody, spoke their languages, remembered their names, knew who was donating what—all kinds of stuff. She had that kind of computer mind. In this role she'd also pick artists up from the airport, organize government groups to come see the shows, and tour them around. She'd always take them to Chez Vincent, a restaurant in the centre of town.
It was at Chez Vincent that she ran into a guy who said, "My, you have wonderful rings." She would wear huge, big rings, and her earrings would be very unusual. His name was Jacques. They ran into each other a couple times, he always complimented her rings or her earrings or her blouse, and she said something nice about him, and they would always speak French. Miriam and Jacques both smoked, so he lit cigarettes for her and a couple of times she lit a cigarette for him. Women did not light cigarettes for men at this time, but men did it for women. Miriam, I tell you, she broke every rule in the book twice. One bright day she discovered his full name is Jacques Brel.
Jacques Brel, at the time, was the most celebrated French-language composer of music, and he sang as well. He was super, super popular.
AC: Miriam was involved in the early days at the Arts Club. How did you two meet Bill Millerd?
RB: When we moved to Vancouver, she was with the Alliance Française organizing cocktail parties and all that stuff, and they're all having a grand old time. Bill Millerd gets talked into putting on Jacques Brel Is Alive and Well and Living in Paris in about 1972. They had an old church on Seymour and Davie, and in the basement was a theatre. Miriam waltzed down there and said, "My gosh, I know Jacques Brel!" Of course, she knew him.
It was a very rare person who walked in there who knew Jacques Brel (well, they were acquaintances), and Bill noticed it. So, Miriam being Miriam, at intermission, noticed they were running out of glasses at the bar—they only had about 40 glasses at the bar, and there's inevitably 15 people who won't give up their empty glass! They made more money on the bar than they ever did selling tickets at the Arts Club in those days—it's true! So, somebody had to go around and invite people to give back their empty glass so they could sell more. I can remember Bill one night, running around in the basement at half time, grabbing glasses out of people's hands. "We have to get that glass washed so we can sell more beer and more wine—we've got to keep this thing going!"
That's how Miriam and I got to know Bill, hustling glasses to get them washed so they could sell more beer and wine!
AC: Miriam is often remembered as a supporter of creating the Artistic Director's Circle, do you recall how this came to be?
RB: The key player there was George Grills. George knew that the Arts Club needed to start raising more money. He wanted to start a Director's Circle, so he let Miriam know this was going to happen. Miriam thought it was a good idea! Then, at a Board meeting, George stood up and proposed it. Miriam could see that it wasn't a popular idea, so she said, "It's a wonderful idea. Let's do some more research on other similar groups." That made sure that they had time to be convinced, so it wouldn't be turned down right away. It worked and came into practice. George thanked Miriam for helping encourage his favorite project.
AC: What do you think Miriam would think about you naming this fund after her?
RB: Oh, she would like that…as I understand it, the idea is for an artist who writes a play and somebody says, "Gee, this thing's good, we'll turn it into a real production on the stage, and if it's a play we'll give it some publicity and then let's see what happens!" And then sometimes you take a one-act play and make it into a three-act play. A good example of this was a small story about a Canadian hero called Billy Bishop in the first world war. Lo and behold, they wrote a story about him, and then they wrote a play about him, and then they made a two-act play out of it. The thing plays forever―it's still playing in high schools…you might've even seen it!
So, Miriam would've loved the idea of that. English-speaking Canada is so busy trying to be "better Texans than Texas." We have this complex where we're trying to be "little Americans" or "better Americans," we're not being ourselves! We should stop trying to be an imitation of the Americans and be more ourselves. The idea that you're trying to get local people and give them recognition, a little gift of $5,000, plus they get a lot of publicity, which is probably worth more to a young person. The publicity part is going to be more helpful than anything else and that's why she would like it. We figured there's got to be Canadian talent that's been out here in Anglo-Canada, and there's been a lot of it.
AC: What do you hope comes out of this artist-in-residence program?
RB: Somebody writes a prize-winning play, or a story that becomes a one-act play, and it's so successful they make it into two, and then somebody picks it up and they get a fortune out of it. That's why, Miriam, the reason that she got involved, was the feeling that she was doing some good. We've got young people who aren't recognized who have great potential, and maybe the role of the Arts Club is to identify these people and then use your experiences as a model. Maybe we can somehow encourage them to start writing seriously or directing or producing and get involved!
AC: Do you have any favourite memories from you and Miriam coming to the Arts Club over the years?
RB: I think Miriam liked how she was able to meet the actors, actresses, singers, and musicians who performed almost regularly with the Arts Club. You know, she was division chairperson at Vancouver Community College, so she was the low man in seniority because she was a woman, she always had the 3:00 in the afternoon 'til 9:00 at night shift for many, many years. But what did Miriam do with herself at 9:00 PM? She went to the Arts Club to see the last of whatever was playing. She had the record for attending the most Jacques Brel performances! She showed up every night.
The other thing Miriam did is she kept telling people about the Arts Club. She was on the radio and television at one point, and she would say "oh such and such a play is on, and… for whatever reason, if you're interested in this the thing, you should see it." She talked it up! And there wasn't a hell of a lot of publicity going to the Arts Club at that point, but there was Miriam, a one-horse show, all by herself, and people did go and see her.
So, that's what I'm hoping comes out of this. The Arts Club Theatre Company will become known for finding and encouraging the development of unique local talent.
To learn more about how you can leave a legacy, click here.