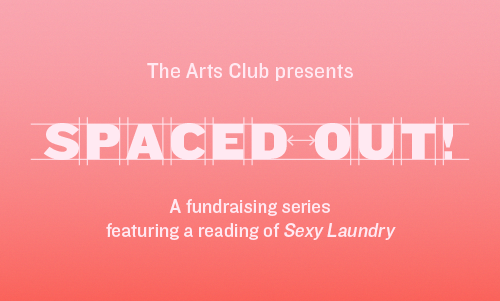 SPACED OUT! IS HERE
It's time to heat up your summer with the latest edition of SPACED OUT! The next event in our fundraising series features an intimate reading of the beloved play Sexy Laundry, by Michele Riml, with Susinn McFarlen (Alice) and David Adams (Henry).
Join us for this hilariously relatable play that is guaranteed to put a smile on your face and a spring in your step. Each reading will be followed by a Q&A session with Michele Riml and Andrew McIlroy, director of the original production, who are generously donating their time for this fundraiser.
Saturday, August 22, 7:30 PM
Sunday, August 23, 7:30 PM
There are two viewing options:
Attend a live reading at the Newmont Stage at the BMO Theatre Centre—only 50 in-theatre tickets are available each night! Complimentary wine from Mark Anthony Group will be served; must but 19+. Tickets: $150


Enjoy the reading from home with our livestream! The viewing link, valid for 48 hours, will be provided to you before 7:30 on August 22—watch the reading live or at your convenience! Proceeds from the livestream will be directed towards new play development for 2021. Tickets: $20

About the play
After premiering at the Arts Club in 2005, Michele Riml's romantic comedy has gone on to become an international hit. In Sexy Laundry, Henry and Alice are a middle-aged couple coming to grips with their lacklustre sex life. To rekindle some of the magic in their 25-year marriage, they go on a naughty two-day retreat to a boutique hotel, only to find out that when the clothes come off, so do the gloves. Contains strong language and mature content.
To promote social distancing, we will offer two entrance times for each event. Choose your entrance time during ticket purchase.
The Arts Club is taking many precautions, including the following, to ensure your safety at this event:
Limiting the number of patrons to 50
Staggering theatre entrance times
Assigning seats to maintain distance between households
Disinfecting the theatre
Providing hand-sanitizing stations
Providing complimentary handmade Arts Club masks
Event Partners